Culture & Lifestyle
| 27.01.2006
Germans Captivated by Film About Silent Monks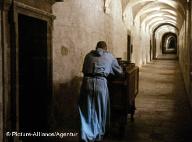 "Into Great Silence" is a three-hour documentary about silent Carthusian monks living in a remote corner of the French Alps -- and a surprise hit at the German box office. DW-WORLD spoke with director Philip Gröning.
German filmmaker Philip Gröning is nothing if not patient. Two decades ago, he approached the monks of the Carthusian order living at the order's mother house, the Grande Chartreuse in the French Alps, with a request to make a documentary about their way of life. He was told that it was too soon for some monks who had recently joined the order -- they needed about 10 years to get used to life at the monastery.
Undaunted, Gröning kept up contact with the General Prior, and in 2002, joined the reclusive monks for several months to capture unprecedented images of life inside what is considered to be the strictest order of the Roman Catholic Church. His resulting film, "Into Great Silence," has garnered rave reviews from critics, and is currently playing to packed cinemas in Germany, where it's become an unlikely hit, surpassing the key 100,000-viewer benchmark.
DW-WORLD: Are you surprised at the reception your film has had in Germany?
Philip Gröning: Not as much as the distributors, they are more surprised. I knew that the audience would be happy to experience this kind of structure of time and this meditative kind of life, so I thought that once the film was in cinemas, getting contact with the audience, that people would start to recommend it to each other, and that's what's happened.
Why did you want to make this film?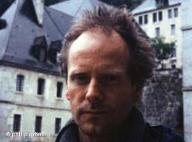 Bildunterschrift: Großansicht des Bildes mit der Bildunterschrift: Philip Gröning
The original idea came about in 1984 when I was at film school. I had finished my first short film and was overwhelmed by the chaos and power games involved in doing films, and I wanted to do something that would bring me back to what I consider to be an artist's work, which is working with truth and trying to create something very absolute, and this idea came up with the silent monastery. And then it took a long time.
It took 17 years!
Well, in 1986 I went for the first time to a very small monastery of the Carthusians, with a friend with whom I wanted to do the film and they said it's a nice project but it's too early -- people have been accepted to the monastery a short while ago and they need 10 years to get used to it. We thought, it's a dead project. But then I kept in contact with them and in 1999, they called up and asked whether I'd still be interested. It took a while to get the shooting permission and the money and in 2002, I started shooting.
Some reviewers have criticized the film for its lack of narrative. Why did you choose to do the film in this way?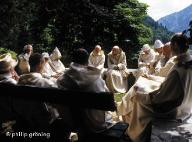 Bildunterschrift: Großansicht des Bildes mit der Bildunterschrift: Scene from "Into Great Silence"
We live in a time when information is available all over and when experience is becoming increasingly rare and so, to make a film about a monastery where you give information about the monastery -- when do they get up, when was the order founded -- all of that is a waste of time for the viewer because he or she can go to the Web site of the order or my Web site and find that out within two minutes. I chose as a director to do a film that creates a space for experience and makes you go through that experience. Of course there are people who say, this is a film that doesn't tell you much about the monastery, but that's wrong, because what it does is, it actually creates the monastery for the viewer.
In order to make that happen on screen, you lived among the monks while you were filming. What was that experience like for you?
It was a very good experience. It was the main reason why I wanted to do the film. In the beginning it was very sad and very lonely because when speech is absent, you really start to think about what you're doing and there's an emptiness that comes. And then it changed, and slowly, perception became much more clear and I started to have a very comforting feeling that, whatever you perceive, whatever you see or hear is actually making you happy as a human being. It's a strange thing that when you arrive at really not thinking about the next moment and not making too many plans, it's pure bliss in a way, it's just making you happy.
Was it hard for you to return to your old life once you left the monastery?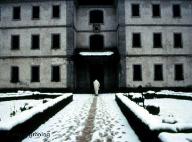 Bildunterschrift: Großansicht des Bildes mit der Bildunterschrift: The Grande Chartreuse is the main monastery of the Carthusian order
The main thing that happened when I left the monastery was, having had this experience of living with people who are pretty free of fear makes you realize how fear-driven our society is. We tend to say that our society is driven by consumerism or greed but it's not true. Greed, consumerism, wanting to have a new Porsche, for example, is a disguise of pure fear. It's a near panicking society and that was difficult to accept.
A number of documentaries have enjoyed widespread appeal lately. Do you think that as a genre, documentary is having a comeback?
I think there's definitely a comeback of the documentary film. It's maybe due to the fact that the dramaturgical structure of normal film has become so calculated, you know so far in advance that they will want you to cry in two minutes, and bam, it happens. I think people are getting fed up with that and they like the surprise and also the rawness of a documentary because it makes you relate much more to who you are yourself, which is something that's important for cinema.